Agata Martin-Ozimek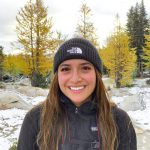 Project: B.Sc. in the Dietetics Specialization Program & Summer Student 2022
Research Focus:  Learning basic bench techniques such as Western Blots and pipetting as well as colorimetry, among other skills. Once these skills have been mastered, I will be given a project that focuses on understanding the role of miR-150, a regulator of immune cell differentiation, in the mesenteric lymph and its impact on lipid and HDL metabolism by using biological samples collected under varied experimental conditions. The plan is to first separate exosomes from lymphatic HDL collected during functional lipid post-prandial studies (from both rats and swine) and then to perform proteomics on exosomes and lymphatic HDL particles. This is all to see whether miR-150 associates specifically with HDL in the lymph compartment, and/or whether the intestine plays a role on the association with the reverse cholesterol function of HDL.
Supervisor:  Dr. Spencer Proctor
What I like to do outside of the lab?:  I like to stay active whether that be hiking in the summer months, going for runs or going to the gym. I also work part time as a lifeguard, a swim coach and a server. When I'm not busy and out of the house, I'm at home hanging out with my family and 3 dogs, watching Netflix or reading a fantasy book.
Email:martinoz@ualberta.ca