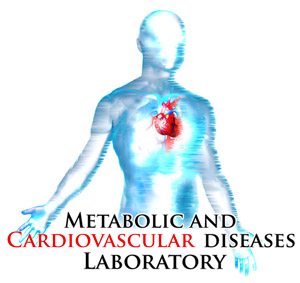 Hot Topics
Recent Scientific Publications
Edward C. Deehan; Zhengxiao Zhang; Alessandra Riva; Anissa M. Armet; Maria Elisa Perez-Muñoz; Nguyen K. Nguyen; Jacqueline A. Krysa; Benjamin Seethaler; Yuan-Yuan Zhao; Janis Cole; Fuyong Li; Bela Hausmann; Andreas Spittler; Julie-Anne Nazare; Nathalie M. Delzenne; Jonathan M. Curtis; Wendy V. Wismer; Spencer D. Proctor; Jeffrey A. Bakal; Stephan C. Bischoff; Dan Knights; Catherine J. Field; David Berry; Carla M. Prado; Jens Walter. Elucidating the role of the gut microbiota in the physiological effects of dietary fiber. MBIO-D-21-01602R1.  Microbiome Journal. Accepted Feb 2022. 2-year Impact Factor=14.5.
She, Y., Mangat, R., Tsai, S., Proctor, S., & Richard, C*. (2022). The interplay of obesity, dyslipidemia and immune dysfunction: a brief overview on pathophysiology, animal models, and nutritional modulation. Frontiers in Nutrition. 2022; 9: 840209.  PMID: 35252310.  Impact Factor:  5.87.
Braga Tibães, J.R., Azarcoya-Barrera, J., Wollin, B., Veida-Silva, H., Makarowski, A., Vine, D., Tsai, S., Jacobs, R., Richard, C*. (2022). Sex differences distinctly impact high-fat diet-induced immune dysfunction in Wistar rats.  Journal of Nutrition. 2022 Jan 31;nxac024.  PMID: 35102397  Impact Factor:  4.80.
Vine DF, Proctor E, Weaver O, Ghosh M, Maximova K, Proctor S (2021). A Pilot Trial: Fish Oil and Metformin Effects on ApoB-Remnants and Triglycerides in Women with Polycystic Ovary Syndrome. Journal of Endocrine Society.  2021 Sep 1; 5(9): bvab114. PMID: 34286169.  Impact Factor: 3.21.
Aldana-Hernández P, Azarcoya-Barrera J, van der Veen J.N, Leonard KA, Zhao YY, Nelson R, Goruk S, Field C.J, Curtis J.M, Richard C, Jacobs R.L* Dietary phosphatidylcholine supplementation reduces atherosclerosis in Ldlr-/- male mice. The Journal of Nutritional Biochemistry. 2021; Jun;92 (In press).  PMID: 33705949.  Impact Factor:  6.05.
Krysa J, Vine D, Ball G, Proctor S. ApoB-Lipoprotein Remnant Dyslipidemia and High-Fat Meal Intolerance is Associated with Increased Cardiometabolic Risk in Youth (2021).  Pediatric Obesity.

 

2021 May;16(5):e12745.  

PMID: 

33150705.  Impact Factor: 4.0.
MCVD Laboratory in the News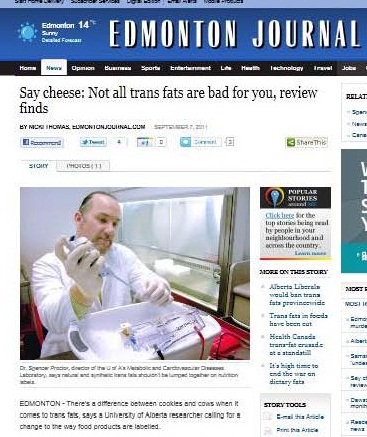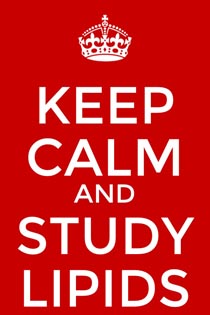 Mission Statement
We are interested in fundamental and translational aspects of lipid metabolism in nutrition-related chronic diseases. In particular, how dietary (intestinal) derived lipids and their metabolism contribute to, or alleviate pathways that cause cardiovascular etiology.
We are keen to appreciate how the etiology of early obesity, insulin resistance and Type 2 diabetes accelerates CVD complications and influence lipid homeostasis. Our dynamic and vibrant group fosters a supportive research environment for staff/trainees in order to build capacity and facilitate unique inter-disciplinary scientific training.